Wanted:
Burst of song across the heavens announcing
you've found your loving soul-mate.
Found: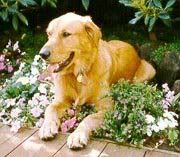 Ahhh yes!
Spring
Love is in the air.
She will have nothing to do with any other animal but the 90 pound Golden Retriever next door name Champ.
A Yorkie and Golden Retriever....unforeseen love at first sight.
An odd couple of great contrast.
My favorite quote about love is "Love others as you would desire to be loved."
If you're alive, your soul is up to something, Being wanted. Wanting someone isn't that what it is all about?
G'day!
The photo I chose was an older one, my caption is Believe.